Learn more about how YOU can make healthy changes in your life and in your community!

empowerME inspires us to eat healthier and move more, to motivate each other, and to be a solution to America's obesity epidemic.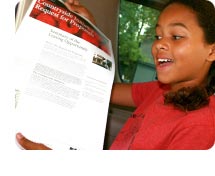 The Meatrix is a fun animated series that illustrates the devastating effects of agri-business and factory farming on our meat and dairy products and family farms.
The Story of Stuff is a 20-minute, fast-paced, fact-filled look at the underside of our production and consumption patterns.
Playnormous At Playnormous you can learn about health AND still have a great time by playing nutrition games and watching cool animations.
Kids Health Kids Health is three sites in one, one for kids, one for teens and one for parents, with information, games and activities about health, behavior, and development.
Kid Wisdom Check out Kid Wisdom for fun games and activities to help you develop healthy habits and stick to them.
Hope Sandrow Also, look at some heirloom breeds of chickens live, right now! They're in Hope Sandrow's backyard in Long Island. She collects the eggs to eat with her family. You can control the camera to see what they're up to!
Nourishinteractive is a great resource for fun nutrition games for kids, interactive nutrition tools and tips for parents and health educators to use to promote healthy living for the whole family.
Big Green TV Video clips, animation, exclusive short documentaries, and headline news presented by a TV host – all of it produced exclusively for BigGreenTV. The information is geared toward ages 9-15, but has been created so adults will enjoy it, too.
ZisBoomBah ZisBoomBah is an exciting new company dedicated to empowering families with just the right online tools to manage their lives. How do we define just the right tool? Our team takes a unique approach to solving age-old problems, flipping them around to formulate new solutions. Then we present and talk with parents, children and experts to find just the right "Oh yeah! Why didn't I think of that!" concept. This, is the foundation for all our tools. ZisBoomBah!
The Lunch Box The Lunch Box is an online toolkit with Healthy Tools For All Schools, packed with solutions at your fingertips. Use any of these free tools to transform your school food into healthy and delicious food for all children, at every school. Go ahead, open The Lunch Box, use the recipes and other tools-for-change that have worked so well for school districts across the country, and make positive change happen in your community. The time to get started is now.
A Nurse's Guide to the Food Pyramid is a basic overview and introduction to each of the food groups and what they include. A great resource for any little aspiring nutritionists out there!