What's On Your Plate Shop items are available for order online. Payment is securely made through PayPal. Major credit cards are accepted.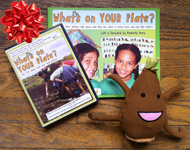 Buy a Bundle, Give a Bundle

What's On Your Plate? is continuing our Buy a Bundle - Give a Bundle Initiative. Each bundle includes a WOYP? DVD, book and stuffed toy onion. Purchase a What's On Your Plate? donation bundle, and (at no additional cost!) our chosen recipient organization will receive a matching bundle for their nutrition education program.

NTSC Format DVD (home use only), 120-page softcover book, and small stuffed toy
$39.95
Would you like to donate your own bundle? In addition to Aubin Pictures' donation, you can purchase bundles to donate. You can join in on the donation frenzy! During your transaction, just let us know how many (if any) bundles you want to have shipped to yourself.
About City Rising Farm
(Cleveland, OH)
Our mission is to help people in underserved communities learn to grow fresh local food and build healthy long lasting relationships with each other so they can use those skills and relationships to create opportunities in their own neighborhoods.
The first location we are working in is the Hough Neighborhood on the east side of Cleveland. Notorious for the riots of the 1960s some Hough residents felt stigmatized by the perception cast that the community was a haven for drugs and violence. Many people who had only known of the neighborhood through the media had long ago written it off. 
Through the hard work of residents and community partners that perception is being replaced by the fact that people are feeling increasingly more comfortable enjoying the great things our neighborhood has to offer, great people and the great food and beauty created in their gardens! 
People are growing fresh food in the gardens, their yards and front lawns and are sharing their knowledge and resources!  Now that's powerful!
Visit our site: www.cityrisingfarm.com